We can help with blocked drains in Livepool, Birkenhead, and surrounding areas. If you are unable to flush your toilet or if your sink basin won't drain away, our team of experienced drain unblockers can come and resolve the problem on the spot.
How it starts
It all starts when you flush the toilet and instead of draining away, the toilet bowl slowly fills up with water. It may slowly drain through, or the water may stand, totally blocked. Beware: do not flush your toilet again if this happens, otherwise it can overflow completely onto your floor.
If you thought this is as bad as it can get, you'd be wrong. Drain blockages can start to attract rodents/vermin over time, which will start to take up residence in your sewer system. Now you have another problem.
To make matters even worse, standing water can cause further structural issues with your home as the moisture starts to rot the surrounding structure.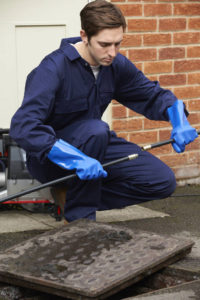 Drain Unblocking Service
A blocked drain isn't a big problem as long as action is taken as soon as possible to unblock it. Our highly skilled team are fully trained and certified, with all of the necessary chemicals and machinery required to unblock your drains swiftly and safely without having to dig up your driveway.
In the vast majority of cases, we can clear drain blockages on the spot, generally within an hour. Only in rare cases with underlying drainage pipe issues does it take longer to unblock a drain. Even in these cases, we can typically diagnose the fault quite quickly using inspection cameras where necessary.
What kinds of blockages can you clear?
We can clear all home drain and bathroom/kitchen related blockages including:
Blocked drains and plumbing
Blocked sinks and wash basins
Blocked toilet, non-flushing toilets
Blocked drain pipes and guttering
When it comes to blocked drains, Liverpool, Wirral and surrounding areas are within our callout range so don't worry. We can have a trained drain specialist with you same day in most cases.
As well as clearing blockages, we are also able to offer gutter and drainpipe cleaning to prevent problems before they occur.
If you're not sure whether your particular blockage is something we can help with, just give us a call anyway. We'll happily advise on the best course of action either way.
Emergency Situations
If a blockage situation is particularly bad and may have caused flooding in your home, our emergency Liverpool plumber service can have a plumber in your home in under an hour. Just call 0151 321 0484 and one of our plumbers can provide guidance on the phone and arrange to attend to resolve the situation.