Our central heating engineers are highly experienced with radiator installation and radiator repair.
Radiator Installation
Perhaps you have a room in your house that didn't have a radiator before and you would like one fitted and connected to your central heating system.
Or maybe you have had a renovation and are in need of a new radiator. This is a simple enough job and we can usually review your situation, order and install a radiator in a pretty short space of time.
We are fully qualified to install central heating systems, as well as individual radiators.
How long does it take to install a radiator?
Depending on a few factors including routing pipework, radiators can typically be fitted within half a day. If it's just a matter of upgrading a radiator or fitting a different sized radiator, then our plumbers will often be able to complete the job within the hour.
Do you have to drain my central heating system to install a new radiator?
This depends on the layout of your central heating system and the position of valves. Generally, yes the central heating system will have to be drained to install a new radiator. This is a simple task for our expert engineers however, and the process will be completed efficiently and without any leaks.
Radiator Upgrades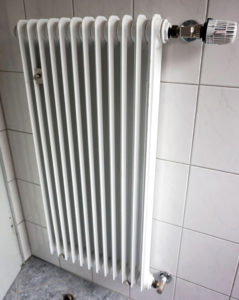 Sometimes, a radiator was fitted in a room and it just isn't up to the job. Maybe it's old technology and inefficient. Or perhaps it's just too small for the room that it's in. We can remove the radiator, adjust any pipes to accommodate the new radiator and install it for you.
If you are unsure about your options, give our highly trained radiator experts a call and they will gladly provide you with some suggestions.
Radiator Repair
If you have a radiator that isn't heating up like it's supposed to despite the rest of the central heating being okay, or maybe it's developed a leak. Our central heating engineers can come and diagnose the problem and often repair the radiator without having to replace it. If it is more cost-effective to just replace the radiator, or if the radiator is beyond repair, we can quote you for the installation of a brand new radiator instead.
Prevention, as they say, is better than cure. We would recommend regular boiler servicing to prevent blockage and leak issues from occurring in the first place.